Hi!
Time to share some more Black Friday shopping goodies! Today's post will have all the things I bought while I was inside the mall that morning. I still have some more things from other stores to share, but that's for another time.
My first stop that (early) morning was Sears since I had seen a hooded robe in the ad, and I've been wanting a hooded robe. I did see that Target had them too, but I was not even going to attempt going to that madhouse.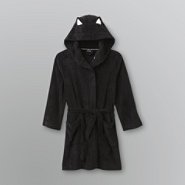 I didn't take a picture of either robe I got so this one will have to do. I got this cute Joe Boxer Hooded Fleece bathrobe with Cat Ears...but I got it in hot pink, which I don't see on Sears' site. This baby has become my go-to even for just throwing on over top of my regular clothes since it's so warm.
I got another one too that zips up the front, plus has a tie waist and the hood has a drawstring ...but I can't find that one on the site at all.
And, me being me, could not resist the pull of the clearance jewelry:
Both from Studio S and both in the brown toned color family - which I've been looking for. Both also rang up cheaper than their "now" prices.
A quick look inside of the Limited yielded me this necklace, for 50% off clearance:
Again, in the brown family. It's double chained & pendant-ed. Each pendant part is actually 2 pieces attached, with the upper pieces having some type of stone going down the center. This necklace was not cooperative in its little picture session. It's not on the Limited's site anymore.
I made a stop inside of Body Central and came home with some more earrings (like I really need more):
Buy one, get one 50% off. Got some bronze-toned earrings, with some turquoise and wood thrown in. I've been looking for some more bronze earrings since I've made a few necklaces out of that tone. And some super pretty silver layered(?) teardrop dangling earrings- no idea how to describe the ones on the left.
I hit up Payless and Icing, too, but I've already blogged about those purchases. Check out that
post here
. I went into several other stores (Express, Forever 21, Wet Seal, Hot Topic, Buckle, etc) but didn't see anything that jumped out and said "Buy me!". I think my only other purchase from inside the mall was my "breakfast" - CinnaSticks from Cinnabon...and coffee. For once, I think I did more shopping damage outside the mall than inside. But that stuff's coming up later.
Are you enjoying your Black Friday shopping goodies (if you got any)?
**all items purchased by me
**my opinions are my own